Guest post: Binti's Product Team on our Racial Justice Engagement Day
We at Binti care deeply about making the world a more fair place, and dedicate our work to enabling every child a fair chance at life. Most of us in Child Welfare are aware of the fact that there is racial disproportionality in our field and it's something that we'd all like to see change. At Binti, we see ourselves as being able to serve a unique role in this effort in partnership with our amazing agencies. We now work with 100+ agencies in 16 states serving about 17% of child welfare in the US. Through our ability to build features and workflows as well as our ability to provide data and transparency, we see a big role for ourselves to play in supporting our agencies to overcome systemic bias.
We recognize we have a lot to learn and in an effort to kick off this intention, we hosted our first Engagement day: a (virtual) working day where we invited youth, families, and social workers to share about what they've seen and experienced* and collaborate with the Binti team to come up with proactive ideas on how Binti and technology can support.
* Binti compensates youth and families for the time and energy and ideas they share with Binti, for Engagement days and for user research interviews. We cannot pay social workers due to procurement/legal reasons.
The Event:
On July 10, 2020, we had 43 people attend the event, a mix of the Binti Team, young people who had experienced care (young alumni), biological parents of children (families of origin), and social workers. We started the day with a few words from our founder, Felicia Cucuru, and our MC, Sixto Cancel. Sixto is the founder of Think of Us, a non-profit leveraging technology to upgrade the foster care system for better life outcomes for its youth. Attendees self-organized into working groups, based on problems they wanted to solve at the intersection of child welfare and racial justice. The problems that our teams focused on were:
Closing racial demographic/availability gaps between families and children
Reducing racism + Creating cultural competence in foster parents
Keeping youth with their culture and relatives
Elevating the voice of youth in the system
Creating visibility of racial bias in the system
Creating cultural competency within organizations
Over the course of the day, each of the teams shared stories to deeply understand the problem, and discussed solutions ideas and actionable next steps. We concluded the day with a share-out from each team of their discussion and additional group reflection.
A note about our tool: We used Hopin. The tool is currently in Beta, and is designed for virtual conferences, with multiple rooms speaker panels. We broke up each of the problem statements into a room, which allowed attendees to wander between problem statements and contribute where they felt most excited, and also join in with other teams. We really enjoyed the experience and look forward to Hopin's eventual release.
The output:
Our teams generated 50+ tangible immediate action items we could take as a team. Here are just a few of the great ideas that came out of the day, and things that we at Binti will be incorporating into our roadmap:
Present applicant demographic data to agencies in order to inform recruiting and applicant support practices to ultimately increase the number of diverse families that are approved
Curate industry best-practices and anti-racist literature, podcasts, videos, etc. to provide to agencies, applicants, and resource families, to improve cultural competencies and potentially build out a way to enable case workers to evaluate cultural preparedness of families
Capture more cultural characteristics of children and families during intake and approval processes (including race, religion, sexual orientation, food preferences, etc.) to inform placements and case management
Incorporate youth voice in the placement process by collecting preferences
Empowering case workers and supervisors with trends in their own work -- i.e. are caucasian families being approved 2x faster than families of color?
Develop a plan for Diversity, Equity, and Inclusion internally at Binti

As a product and engineering team, we reserved capacity for a medium-sized project in our roadmap in Q3, and selected the clear first step to pull into our development cycle: The ability to cleanly track and report demographic data on families. This feature will be rolling out in Binti in the upcoming weeks, and will allow caseworkers to track ethnic data on each individual in an application, including Native American tribal information based on definitions in The Indian Child Welfare Act.
Conclusion:
We're so grateful for everyone who joined us during this event, and received positive feedback from our participants as well.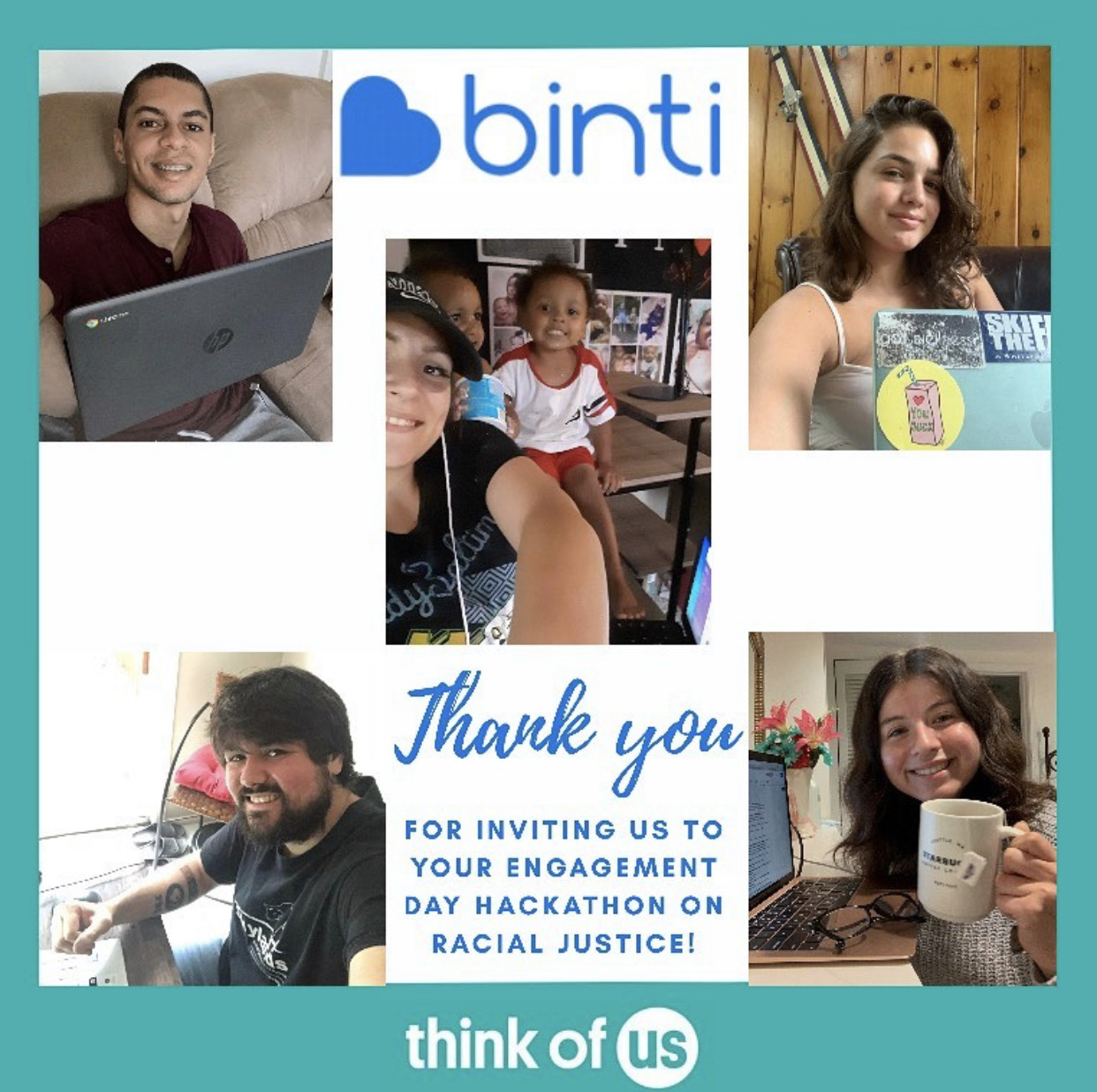 A note Sixto sent our founder, Felicia, a few days after the event:
Felicia, I used to give these talks to the Field about what is possible with technology. Then you came along and actually demonstrated what is possible. [...] I really enjoyed your team. They were awesome.
We are committed to continuing these conversations within Binti and with each of the agencies and partners we work with. If you have any questions, feedback, or additional ideas that you'd like to suggest we pursue, please reach out to the product team at BintiEngagementDay@binti.com. We plan to host more Engagement Days at Binti, inviting the community to join us in our mission to give every child a fair shot at life.